Plantar Fasciitis is a prevalent yet painful condition that many individuals are faced with today.
The symptoms are a stabbing pain close to or in the heel area, especially when getting up in the morning or after being seated for a while.
Mostly sandal does not offer much support and comfort for this condition. However, Oofos sandals for Plantar fasciitis may be just what you need.
Keep in mind that Oofos sandal is casual leisurewear, recovery sandal, which makes them even better for Plantar Fasciitis.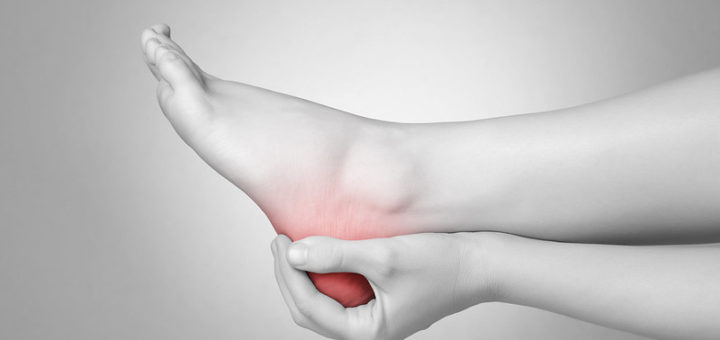 ---
Plantar Fasciitis Causes and Symptoms
If you notice a stabbing or burning pain in your feet in the bottom near or in the heel, and this is usually when you get up in the morning or after being off your feet a while, then you may just as well have Plantar Fasciitis.
This is especially true if you take part in sports such as running and dancing or on your feet all day, particularly on hard surfaces.
The pain will increase after exercise and activity and is usually not felt when you are active on your feet.
Your plantar Fascia is in the shape of a bowstring connecting the toes to the heel bone at the bottom of your feet. This supports the arch of your foot and helps to absorb shock when you walk or run. If there is too much stress and tension on the bowstring, small tears and damage can occur, causing pain and inflammation.
People who are more at risk for this condition include;
Age Groups -people in Age groups of between forty and sixty years of age are at greater risk of developing plantar fasciitis.
Sports and Activity Groups – Individuals who run or participate in activities such as dancing and similar sports are also at greater risk.
Occupations – Occupations requiring your to be on your feet all day, standing, or walking, especially on hard floor surfaces, may lead to plantar fasciitis.
Overweight persons – If you suddenly gain more weight, the tension on the Plantar Fascia increases and can cause damage, leading to Plantar Fasciitis.
Foot Mechanics – People who have low or flat arches or who have very high arches are two groups that may develop Plantar fasciitis because their arches do not provide the support necessary or distribute weight evenly.
---
Choosing Plantar Fasciitis Sandals
Now we get to choosing the best plantar fasciitis sandal.
Here are a few tips that will also show you why Oofos recovery sandal is such a great choice;
Roomy Fit – If you have Plantar fasciitis because of flat feet or a low arch type, you may need a sandal that offers a wider and roomier fit.
Arch Support – As the band of tissues that aid in arch support is damaged and inflamed, it is advised to opt for sandals that have a contoured footbed and that provide some arch support. You can also look for a sandal with a deeper heel cup that provides stability and support.
Cushioning – Ensure that the sandal offers good cushioning and has a shock-absorbing midsole, as this helps reduce tension and impact the painful area and helps the Plantar Fascia to heal without any added stress.
Rigid Sole – The sandal's sole should only flex in the ball of the foot area. With Plantar Fasciitis, you will need some stability and a more rigid sole design, particularly if it is because of a flat or low arch type.
I would advise that you consider features that are more accommodating to your specific arch type and needs when choosing a sandal. For persons who have a high arch, more cushioning and flexibility and high arch support are generally required, whereas, for a low arch, you need stability and a more rigid sole with less cushioning. Then there are also supination and overpronation issues that will have to be addressed first, as they impact the condition and its causes.
---
Features of a Good Oofos Sandal for Plantar Fasciitis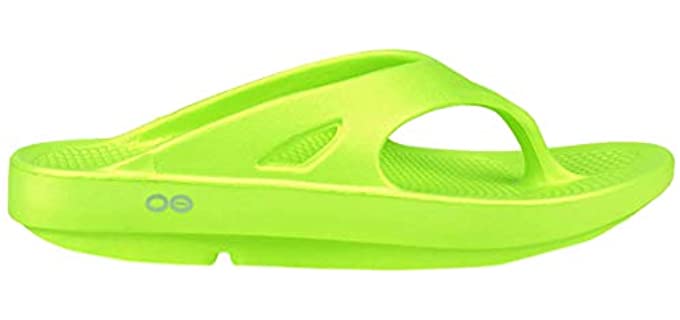 Technology – The entire Oofos sandal consists of Oofoam technology, a specialized foam designed to absorb 37% more impact than any other foam found in shoes and sandal.
Design – Oofos sandal generally have a contoured footbed for proper support and arch support, as well as a rocker sole in many models, which reduce pressure on your feet and eliminate shock.
Uppers – Oofos sandal may have either a single strap upper, closed-toe, or a flip flop design upper.
Options – Oofos sandal are available in more colors and sizes, and they generally offer a much wider and roomier fit.
---
Reviews: The Best Oofos Sandals for Plantar Fasciitis
In our list we have some of the top favorite sandal for Plantar Fasciitis from OOfos;
---
1
Sandals for Plantar Fasciitis
This is the main and original design from Oofos the Oofos Ooriginal, a post-exercise recovery thong sandal.
The sandal consists of foam, and the thong design is synthetic.
The sandal has a patented support footbed to reduce strain on your feet and heels and to support the arch.
The rocker sole design is also ideal for reducing pressure on your feet.
This model is likewise available in more color options.
---
2
Plantar Fasciitis Slide Sandal
The Oofos OOahh is a slide design sandal for recovery after sports or exercises.
It similarly has synthetic uppers and Oofoam foam technology known to absorb 37% more impact than any other foam.
The sandal is easy to slide on and off with one cross strap.
The footbed is a comfortable and patented support design.
The sole has a slight rocker shape for pressure relief and stability.
These sandals are also fully machine washable and available in more color options.
---
3
Sandal for Plantar Fasciitis
The Oofos OOriginal Sports design Thong sandal comes in a more fashionable design and different color options.
The sandal consists of the patented Oofoam technology foam and a supportive footbed.
The sole is durable, and the uppers are synthetic.
The sandal is a flip-flop design and ideal for beachwear.
---
4
Clog Sandal for Plantar Fasciitis
Here is another shape and design of the Oofos OOCloog.
The sandal has an enclosed toe and slide-on clog design.
The design is available in a few neutral colors.
This model features a patented footbed that supports your feet and ankles to prevent strain and sprains.
It has a foamy texture and comfortable cushioning.
The outsole is slip-resistant and quite durable.
---
5
The Oofos Ooriginal Citron is based on their sports recovery thong sandal design.
This sandal comes in a very bright neon green color and is available in limited sizes as it is a new and more fun edition, so act quickly.
The sandal has a flip-flop design with the patented Oofos Foam and synthetic uppers.
The footbed is cushioned and supportive.
The outsole offers exceptional grip.
---
6
Sandal for Plantar Fasciitis
The Oofos OOlala sandal also comes in a flip-flop design for men and women.
The design has the comfortable Oofoam technology that is cushioning and shock absorbing.
It also has a patented footbed that cradles and supports your feet.
The outsole offers a good grip and is durable.
There are also more colors available in this specific range.
---
Index Table: Top Rated Oofos Sandals for Plantar Fasciitis
---
---