When you choose sandals to walk in as opposed to walking shoes, you will need to consider the same support, durability, and cushioning features.
Sandals are a much cooler option to walk in for summer, but they are not always the most comfortable option.
However, the best Keen sandal for walking has proven otherwise.
Keen manufactures sandals that are ideal for walking, especially outdoors and on uneven trails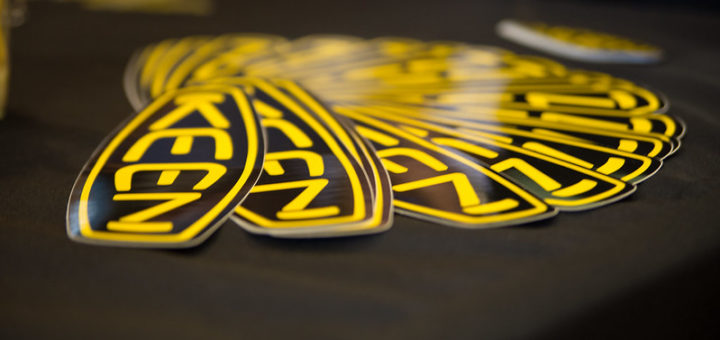 ---
Choosing a Sandal for Walking
When Choosing sandals to walk with there are a few key characteristics that make some sandals better than others for walking.
You will also need to consider whether the sandal will be used for walking on roads or outdoor trails, which require much more than just a regular road walking sandal.

Durable Materials – You will need a sandal with durable construction, especially a durable sole for walking, to resist abrasion and to provide a long-lasting reliable fit.
Adjustable Fit – The fit should be adjustable with straps that you can change to suit your foot shape and size.
Cushioning and Support – Cushioning and support is ideal for comfort and to protect your feet from impact. Cushioning should also be durable for walking, and the footbed needs to have an anatomical or contoured shape for proper arch support. Look for midsole and footbed cushioning for comfort and maximum protection.
Breathable Uppers – Make sure that the uppers consist of breathable materials that are lightweight such as leather, and canvas webbing or polyester. Some polyester webbings are also quick drying and ideal for walking in wet conditions.
Lining – I always recommend a sandal that has a smooth lining added to the uppers straps to reduce friction and discomfort especially when walking.
Keen sandals are designed more for outdoor and trail walking, they provide excellent grip and traction for outdoor surfaces and are exceptionally durable in this regard.
---
Keen Sandal Models for Walking
Here are some of the top keen sandal models that stand out for walking;

Whisper – The Keen Whisper is a more closed design sandal that has elastic textile uppers with bungee cording for an adjustable fit. The uppers are water-resistant and also easily washed for outdoor walking. This model has a cushioned and supportive footbed and a very grippy rubber outsole for walking on trails and uneven surfaces.
Uneek – The Uneek sandal has soft corded construction uppers and also a slightly more closed design. It has a lightweight midsole and comfortable supportive footbed with plenty of cushioning. The outsole is durable, however, this is more of a casual walking sandal than a trail walking option.
Kona Flip Flops – The Kona Flip Flop range from Keen is ideal for beach and trail walking, and they are extremely water friendly with quick-drying uppers. Their soles offer much better traction and they have molded EVA cushioning.
Newport H2 – One of my absolute favorites form Keen is their Newport H2. This is an outdoor and trail walking sandal ideal for very wet and slippery conditions. It ah a more closed and protective style for walking, with adjustable fit uppers un a quick-drying material. The footbed is cushioned with EVA and the razor-siped outsole offers exceptional grip and traction.
Targhee – The Keen Targhee sandal us similar to the boot in construction. It has durable premium leather uppers that are fully adjustable, with a quick-dry lining, the sole offers comfortable support and cushioning, and the outsole is a slip-resistant and durable rubber.
Arroyo – The Keen Arroyo sandal has all of the best features of hiking and walking shoe, in a simple design sandal. It has waterproof leather uppers with breathable open vents and a lining. The uppers are adjustable in fit. There is also a comfortable footbed and a multi-directional lug rubber outsole for exceptional grip and traction.
---
Features of a Good Keen Sandal for Walking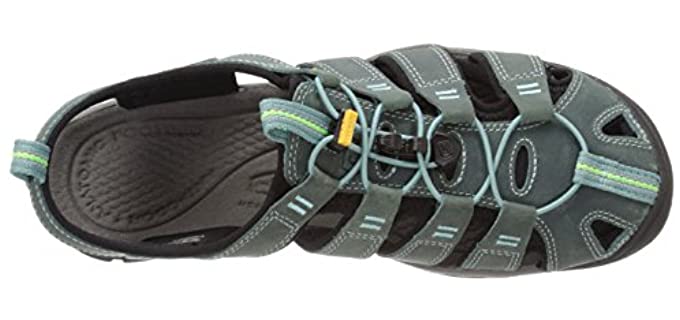 Uppers – The keen sandal range features a variety of materials used for the uppers, from genuine waterproof leather to synthetic polyester webbing that is washable. Keen sandals are all fully adjustable in the uppers with hook and loop Velcro closures. You also get the Uneek range that features elastic corded uppers, and their fisherman's sandal styles that have bungee lace-up systems.. keen sandal features lined uppers for comfort and less friction.
Footbed – Keen sandals offer a comfortable cushioned and contoured footbed with light arch support, EVA cushioning is mostly used that is lightweight and very durable.
Outsole> – keen employs different outsole technologies depending on the sandal model, although most of their outsole is rubber. You get the high traction rubber outsoles, and also Multidirectional lug rubber outsoles for better traction on slippery and wet terrains.
Options – Keen sandals are available in plenty of sizes, as well as quite some color options in most of their models.
---
Reviews: The Best Keen Sandals for Walking
Here is our list of the top favorite Keen sandal that is perfect for walking;
---
1
The Keen Newport h2 sandal is a water-friendly sandal model from Keen that is perfect for walking.
The uppers are washable and water-resistant polyester, that is adjustable and quick drying.
There is a contoured and cushioning EVA footbed for support and comfort.
The bungee lace-up system offers a comfortable fit.
The sandal has a Multi-directional lug rubber outsole for optimal traction on outdoor trails.
---
2
The Keen Uneek is a more casual walking sandal that is less rugged.
It features a closed style toe with soft and flexible braided nylon cords that is stronger with a fit that will mold to the shape of your feet.
The outsole is a high traction non-marking rubber.
There is a metatomical cushioned footbed for support and comfort.
There are also plenty more color options available in this range.
---
3
The Keen arroyo 2 is a rugged and comfortable sandal for walking.
They are a closed fisherman's style with leather uppers and a synthetic lining.
The sandals have an EVA cushioned footbed for support and a bungee lace system for a comfortable fit.
The outsole is a non-marking durable rubber.
---
4
The Keen Clearwater CNX is a water-friendly sandal ideal for walking.
The sandal has 100% polyester uppers that are adjustable and quick drying.
There is a cushioned footbed with contoured arch support and a 4mm midsole drop for walking.
The outsole is rugged with multi-direction flex grooves and rubber for trail walking and slip resistance.
More color options are likewise available in this range.
---
5
The Keen Targhee is a comfortable open-toe sandal with polyester webbing that is quick-drying and adjustable for the uppers.
The Keen Targhee has a dual-density contoured EVA footbed for support and a heel capture system for a locked-in fit.
Likewise, the Targhee features a high traction grip rubber outsole for outdoor terrains.
The Keen Rose has a closed toe with a rubber toe bumper and quick-drying polyester uppers.
The Keen Rose also has an EVA footbed and high traction rubber outsole.
There are more colors available in both sandal models.
---
6
The Keen Kona Flip Flops are the ideal design for light hikes or walking trips.
They are washable polyester sandals with a PFC water repellent lining.
They have a durable rubber outsole with high traction pods and a comfortable EVA midsole and footbed for support.
The flip flops are available in more colors from which you can choose.
---
Index Table: Top Rated Sandals for Walking from Keen
---
---