Hallux Rigidus is a condition that affects your big toe joint. It causes pain and stiffness in the big toe joint. Hallux Rigidus is a type of degenerative arthritis that affects the joints in your big toe. Generally, you want to reduce motion in the joints of your big toe as much as possible to prevent pain. The toe may also be stiff and rigid, which will cause you the inability to move the toe and the joint. Walking and running may become difficult and wearing shoes may also become difficult. Ideally, you want shoes or sandals that do not place any pressure on the big toe, and that also have a more rigid sole to reduce motion in the joint of the big toe.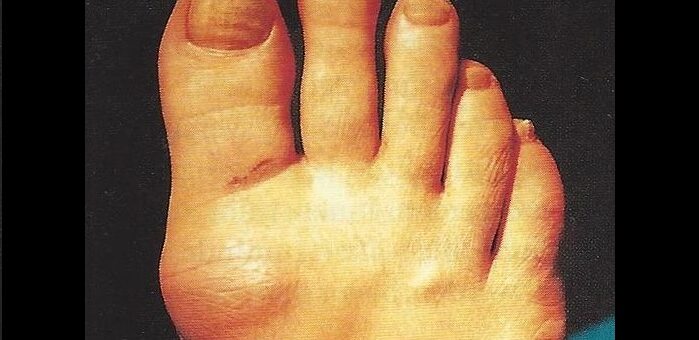 ---
Hallux Rigidus Explained
Hallux Rigidus also known as the stiff big toe, which is the main symptom of the disorder, is a degenerative type of arthritis that is quite common and called big toe arthritis. The condition is progressive, meaning it can get worse with time. However, they are some individuals that are lucky enough to find that the condition does not get worse from when it started. There are quite a few causes of Hallux Rigidus, although anyone can develop the condition. Hallux Rigidus is usually found in individuals between 50 and 60 years of age. However, it can also occur in adults and teenagers.
Causes – When you walk or run, you place excessive stress and pressure on the joints of your big toe, because every step that you take, places and forces that are twice your body weight on the joint of your big toe. Certain activities such as stooping or squatting, and also athletic activities and sports that place much pressure on the joint of the big toe can lead to Hallux Rigidus. There are also certain types of injuries, such as straining your big toe, spraining your big toe, or stubbing your big toe, that can lead to Hallux Rigidus. Then, on the other hand, osteoarthritis rheumatoid arthritis, and gout, which are inflammatory conditions, are most likely to lead to Hallux Rigidus. Maybe you are also unlucky in a form of genetics and you may have a certain foot type that is more prone to develop the condition Hallux Rigidus.
Symptoms – Now Hallux Rigidus starts with pain in your big toe in the base joint, especially when you walk or run when pushing off your big toe. As it is a progressive condition, you may start to feel that the joint in your picture becomes stiffer and stiffer as time goes on, and eventually, you may lack all motion in your big toe. The big toe can be painful, and it can become swollen, and it may be difficult for you to wear certain closed-shoe styles.
Treatment – In severe cases of Hallux Rigidus you can get treatment from a medical professional, which can perform injections or eventually surgery to help with the condition. At-home treatments include, first of all, wearing proper shoes that allow plenty of room for your toes and reduce pressure on the toe. You will need to limit the movement as much as possible, and you can place pads in your shoes to limit the movement of your big turn. You can also use anti-inflammatory pain medication or try soaking your feet in warm and cold water to reduce the symptoms.
Complications – Hallux Rigidus will eventually cause the joints in your picture to become stiff, and it will limit movement which can infect the way that you walk and run. It is painful, and it can also cause persistent swelling. You may also develop a deformity in your foot. With Surgery for Hallux Rigidus, you may get an infection, and they may be some bleeding. These are all some of the complications that are related to the condition Hallux Rigidus.
Prevention – Essentially, you cannot prevent the condition of Hallux Rigidus. You can slow its progress though. You can try to do exercises to keep the joint in your big toe more mobile, and you can rest when you start to feel pain. It is also important to wear shoes that have a good fit with more than enough space for you to evenly spread out your toes.
---
Sandals for Hallux Rigidus
Sandals are an excellent choice if you have Hallux Rigidus, because your toe is more exposed, and there is less pressure on it and more freedom. However, you do need a good supportive sandal that has a more rigid sole to reduce the motion of the joint in the big toe. Ideally, you cannot always wear sandals, especially not in cold weather, but in hot weather, it can be comfortable and enjoyable, reducing pain and swelling to wear a pair of sandals.
Look for a sandal that is a comfortable and open design that will not place any pressure on your big toe. Sandals that have adjustable uppers and soft, comfortable uppers, or ideal for you. You also want to try to avoid any shoes or sandals that have high heels or a narrow-toe box.
The shoe or sandal should offer good underfoot support, such as arch support, and good shock-absorbing cushioning. You do want a shoe or sandal that is a slightly more rigid sole to provide more stability and reduce motion in the big toe.
---
Features of a Good Clarks Sandal for Hallux Rigidus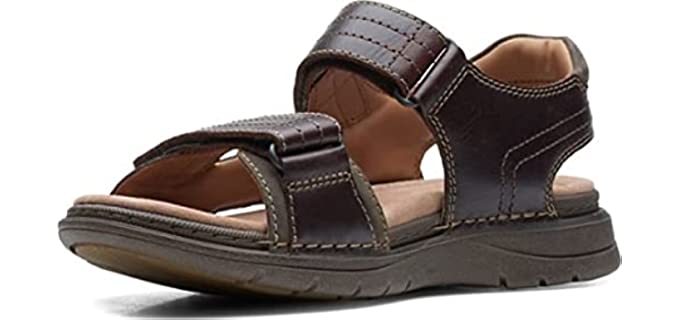 Uppers – Clarks sandals have either genuine leather synthetic leather fabric or textile uppers. Many of these sandals have a breathable liner to wick away moisture and keep your feet dry. The uppers are usually adjustable so that you can get a more comfortable fit.
Comfort and Support – Their sandals do offer comfortable cushioning, such as an OrthoLite footbed that is soft cushioned and that Wicks away moisture, or an EVA firmer footbed that cushions and absorbs impact. They feature cushion soft footbed technology, which is a contoured cushioned footbed that has a high rebound foam inlay inside the sole to reduce the impact on your feet and to place your feet in a more natural position.
Outsole – Clarkssandals may have either a thick rubber TPR or EVA outsole. They offer good traction, and they also offer good shock absorbency.
< robust>Options – From the models of sandals that we have chosen. You will see that they are more colors, full sizes, half sizes, as well as wider width fits available.
---
Reviews: The Best Clarks Sandals for Hallux Rigidus
In our review section, you will find some of the best available sandal models from the brand Clarks that are ideal for Hallux Rigidus.
---
1
The Clarks Slingback sandals are ideal for Hallux Rigidus.
They are fully adjustable with leather uppers.
The sandals have an OrthoLite footbed and EVA Rubber Outsole.
There are also a few more color options available.
---
2
Formal Hallux Rigidus Sandals
Here we have two more formal Fisherman style sandals.
They have comfortable leather uppers and a roomy toe box.
The sandals have an OrthoLite cushioned footbed and Flexible EVA sole with a ridged rubber outsole.
They are lightweight on your feet and offer good support.
---
3
T-Bar Hallux Rigidus Sandals
These two casual flat sandals have a roomy fit for Hallux Rigidus.
They have a dual-density comfort PU footbed and Molded EVA midsole.
The outsole is a very grippy TPR rubber.
The uppers are casual for everyday wear.
---
4
These comfortable outdoor sandals offer an adjustable fit and stable outsole.
They have a contoured and cushioned footbed for comfort and support.
The uppers are durable leather and lined.
They are also available in more colors.
---
5
These are two supportive all-terrain sandals for Hallux Rigidus.
They are casual and sporty in style.
The uppers offer a comfortable adjustable and soft fit.
The footbed is well-cushioned and supports the arch of your foot.
The outsole is rigid and grippy for all terrains.
---
6
Lastly, these are two open-styled and supportive flip-flops for Hallux Rigidus.
They will place no pressure on your big toe and have a more rigid sole.
There is a cushioned and supportive footbed.
The flip flops are available in more colors.
---
Index Table: Top Rated Clarks Sandals for Hallux Rigidus
---
---