Waterproof sandals make for one of the most popular sandal types as they are ideal for most uses.
A true waterproof sandal is designed to dry quickly, repel water, and provide good traction on wet surfaces.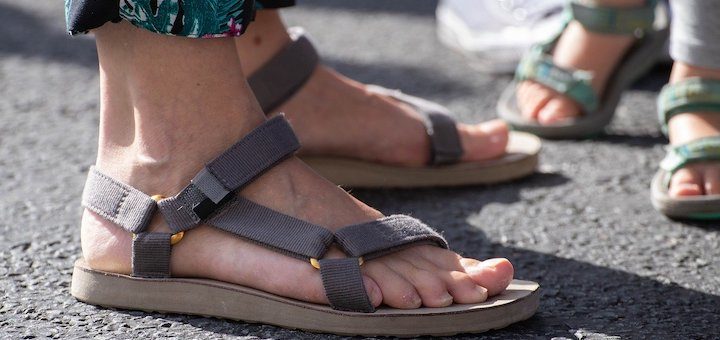 ---
What Are Waterproof Sandals
Waterproof sandals consist of materials that either dry quickly, such as polyester, or that have materials such as rubber, EVA, or Crosslite, in which case the water runs off.
Most waterproof sandals come with drainage holes or an open design to allow proper drainage of water, and they will have a slip-resistant outsole that is ideally suited for wet conditions.
Styles also have low block heels or platform soles that add a little extra height without sacrificing comfort.
Uses for Waterproof Sandals Include
Waterproof sandals have the main purpose of being used for playing or being around water and in wet conditions.
Here are a few such scenarios;

For swimming or going to a pool area, waterproof sandals are ideal. They are also the perfect beach sandals.
Hiking and trail walking is a fun summer activity that may include wet conditions. Wear waterproof sandals can come in handy.
You can wear waterproof sandals around town, just as any other sandal as they may be casual but still acceptable to wear.
Waterproof sandals are also an idea for fishing trips.
---
What Makes a Sandal Waterproof
There are a few things to look out for that you will generally find in most waterproof sandals;

Drainage – Waterproof sandals should have either an open design or large drainage holes to escape water from the sandal easily.
Quick Drying – waterproof fabric sandals need to consist of quick-drying materials such as polyester.
Slip Resistant – Any waterproof sandal also needs to have a highly slip-resistant outsole, specifically designed for very slippery surfaces.
Water Repellent Materials – You get a waterproof sandal consisting of waterproof or repellent materials such as EVA, rubber, or other forms. The water runs off the material, and the sandal almost instantly dries.
---
Features of a Good Waterproof Sandal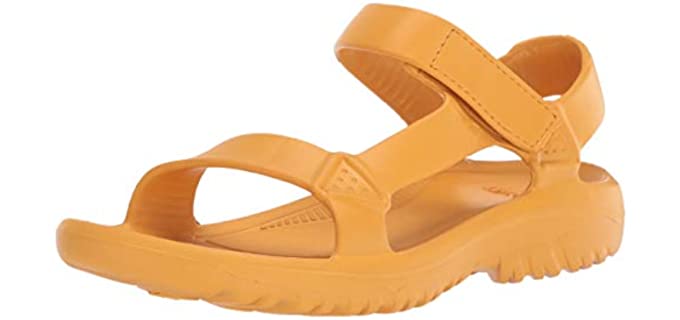 Uppers – Look for a sandal that has polyester, crosslite, EVA or rubber uppers that repel water, or dry quickly.
Footbed – The footbed of the sandal also need to be waterproof, with a supportive and cushioned design for grip.
Drainage – Make sure that there are drainage holes if it is not and open style sandal.
Slip Resistant Sole – Look for a durable rubber or EVA outsole, with a lug tread for slip resistance.
Options – Most Waterproof sandal do offer some options in terms of colors, widths, and sizes.
---
Reviews: The Best Waterproof Sandals
Listed Belo ware some of the best sandals that offer excellent waterproof or water-resistant properties to keep your feet dry;
---
1
Crocs are the best shoes for water roofs, easy to clean, and water-friendly.
The classic Crocs clog is the most popular style available in plenty of colors from which you can choose.
They consist entirely of a Crosslite foam that is very durable and lightweight and provides good cushioning and shock absorbency.
Crocs have ample drainage holes to allow water to drain, and the material dries almost instantly.
---
2
Fisherman Style Waterproof Sandal
The Keen Newport is a well-known outdoor sandal from a popular brand that makes hiking and outdoor footwear and apparel.
The Keen Newport H2 features fully adjustable polyester uppers that will repel water rather than absorb it and dry instantly.
There is a rubber toe cap for durability and a high grip rubber outsole with multi-directional lugs for improving grip on outdoor trails and terrains.
The uppers have a bungee-style lace-up system for an adjustable fit.
Furthermore, there is a comfortable compression-molded EVA footbed o absorb shock and support your feet.
You can similarly choose from many colors in this sandal model.
---
3
The Teva Hurricane Original has a basic design, similar to the Teva Original, but is slightly more rugged and water-friendly.
Teva sandals were initially designed to be water-friendly outdoor sandals that dry quickly and do not absorb liquids.
The Teva Hurricane ahs polyester uppers are fully adjustable.
The footbed has a comfortable design and is cushioned with EVA>
The outsole is a durable rubber that offers superb grip and traction.
There are also many colors available, from which you can choose your favorite.
---
4
Another addition from crocs is their classic clog in the printed range.
Here you will find croc models that come in many colorful and even dark or light prints and fun shapes and patterns.
The Crocs consist of crosslite material that repels water and are very easily rinsed or wiped clean.
Drainage holes on top and eat the sides, allowing water and debris to stay out of your sandals.
Crocs have a grippy outsole and cushioned footbed for comfort and support.
---
5
The Teva Hurricane Drift looks much similar to the regular Hurricane. However, it consists entirely of water-repelling EVA, making it fully waterproof.
The sandal consists of full injection-molded EVA that is lightweight, water-resistant, and comfortable.
The uppers straps are adjustable, and the outsole has a high traction tread for slip resistance.
These sandals are perfect for use in water and on the beach.
They come in many fun and neutral color options for every taste.
---
6
The Crocs Swiftwater range sandal is designed to be better waterproof with water-repelling and quick-drying materials.
The Swiftwater Webbing sandal for the ladies has textile and synthetic uppers that have adjustable straps, water removed, and quick drying.
The footbed is comfortable and cushioned for support, and there are flex grooves in the sole for flexibility and traction.
For men, the Swiftwater River sand has adjustable Crosslite Uppers and a crosslite cushioned footbed.
The River sandal also has a very durable and high traction outsole.
Both sandals offer some more color options, from which you can select as needed.
---
Index Table: Top Rated Waterproof Sandals
---
---