Hiking in sandals is generally not recommended as they do not offer the cover and protection that an actual hiking shoe does. However, hiking with heavy, closed style shoes in very hot weather can be quite uncomfortable and cause your feet t sweat and sometimes blister.
When choosing Hiking sandals for wet conditions or terrains, I would recommend water sandals for hiking that are specially designed to be water-friendly and for Hiking purposes.

---
Water Sandals
Before we get to water sandals for Hiking and bring the two together, let us first look at what an actual water sandal ideally entails.
A water sandal is not a plastic or EVA slide or flip flop and not a cheap sandal model that you can buy from your local retailer.
A true water sandal is designed to offer good traction and grip on wet and slick surfaces, mostly found around rivers and lakes.
A good quality water sandal will also offer good drainage of water and debris, with materials that dry almost instantly and do not hold water.
There are a few instances where water sandals come in quite handy;
Swimming and Beach wear – Water sandals are perfect for going swimming to wear when you get out of the pool and for wearing to the beach.
Summer Wear – Water sandals are perfect for wearing during summer, to the beach, lake, and even for camping.
Fishing and Hiking – Water sandals offer good traction and water resistance for fishing and hiking trips on wet terrains. They can be worn in and out of the water and on slick and rocky surfaces.
---
Water Sandals for Hiking
Most Hiking sandals are water-friendly and thus are pretty much similar to water sandal for Hiking offer many benefits;
Lightweight – Water sandals for Hiking will be much more lightweight on your feet than actual water shoes, or hiking shoes, and boots. They will also keep your feet cooler in hot weather and ventilate them well.
Easy Water Crossing – You can easily walk through streams, rivers, and other water bodies or puddles without having to remove your shoes and socks. Water sandals for hiking will provide ample traction, and they will drain water as well as dry very quickly.
Stay Clean. With water sandals, they easily drain water and debris, and you can quickly and easily remove small stones and pebbles from your sandal without essentially having to remove the entire sandal, as how you would with water shoes or hiking boots.
Tanning – A fun Bonus of a water sandal for hiking is that with some of the open styles, you can actually get a pretty good tan on your feet.
---
Features of a Good Water Sandal for Hiking
Here are a few features that you can look for in good water sandals that are also ideal for hiking.
Keep in mind that the lighter designs and full water sandals may not offer the maximum durability and protection that full hiking sandals do.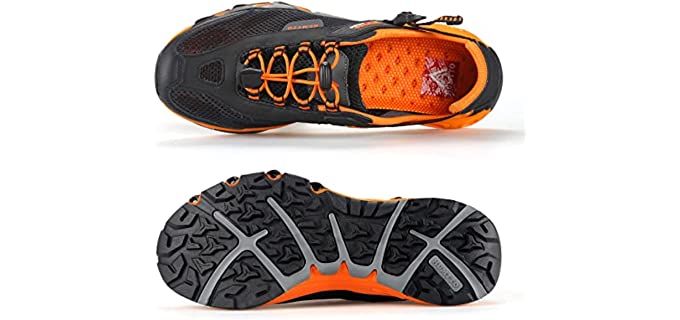 However, most hiking sandals are generally well suited to use as water sandals, in turn.

Uppers – You get different water sandals for hiking that may have an open style or closed fisherman style. The uppers will usually be water-resistant or quick-drying neoprene, polyester, or treated leather, and you get EVA foam models. The uppers should be adjustable in fit with a Velcro closure or bungee laces.
Footbed – The footbed may be contoured and cushioned for support and comfort, with a non-slip surface and water-friendly materials such as EVA or foam.
Outsole – The outsole will usually be a thick rubber with lug patterns for optimal grip and traction on wet and dry surfaces.
---
Reviews: The Best Water Sandals for Hiking
In our review section, you will find some of the best available water sandals that you can use for hiking;
I have added some heavy-weight and very durable hiking sandals for tough terrains that are water-friendly and can still be used in and out of the water, as well as some lighter water sandal models that are more suited to less harsh outdoor terrains for hiking.
---
1
Fisherman Style Waterproof Hiking Sandal
The Keen Newport is the perfect water-friendly sandal for hiking.
The sandal has a closed Fisherman's style and a comfortable fit EVA insole.
The uppers are a quick-drying polyester and adjustable in fit.
There is a very durable and slip-resistant rubber outsole.
---
2
The Teva Hurricane is lightweight,water-friendly, and very durable for walking.
It has quick-drying polyester uppers that are fully adjustable for a customizable fit.
The Sole is a soft and durable EVA foam that supports your feet.
The outsole is lug and highly slip-resistant.
You can likewise choose from a few more available color options.
---
3
Here we have a closed athletic sandal that is Amphibious, meaning it is ideal for use in water and out of water.
It has a Quick drainage design and a closed to for extra protection.
The Midsole is a durable EVA, and the Insole is a more comfortable memory foam.
There is a slip-resistant rubber outsole and an anti-collision rubber toe cap.
---
4
Though not the most durable in hiking sandals, the Crocs Classic range can be used on less harsh trails.
They are a water-resistant Crosslite foam with large drainage holes and a closed protective design.
The footbed is cushioned and offers good support for your feet.
There is a durable slip-resistant outsole.
The Crocs Classic range is available in many color options.
---
5
Another Option from Crocs is their Swiftwater range.
They are ideally water sandals with a more rugged design for hiking.
The sandal features the foamy crosslite materials with synthetic adjustable uppers.
They have a durable and slip-resistant rubber outsole.
Furthermore, you can choose from a few available color ranges.
---
6
The Teva Hurricane drift is a full water sandal for walking.
The range offers a sandal that consists of full injection-molded EVA that is completely water-resistant.
The uppers are adjustable for a more comfortable fit.
They have a durable and slip-resistant outsole and are very lightweight for use in water.
---
Index Table: Top Rated Water Sandals for Hiking
---
---